susan philipsz
ambient air
2021, 46 min loop
single channel sound installation
stimme // voice: susan philipsz
installationseinrichtung // installation set up: stephan rohwer
courtesy the artist, galerie isabella bortolozzi, tanya bonakdar gallery, konrad fischer galerie
ambient air, 2021
super 8 film transferred to hd
länge // duration: 10 minutes 46 seconds
shot on location in strausberg airport, brandenburg and berlin with aerotours group
pilot: robert hanke
camera: padraig timoney
audio: mario weise
film: kodak vision3 50d super 8
processing and digitalisation : andec filmtechnik
film editing: eoghan mctigue
digital colour: jamie lemoine
courtesy the artist, galerie isabella bortolozzi, tanya bonakdar gallery, konrad fischer galerie
in auftrag gegeben von // commissioned by sonambiente berlin txl
uraufführung // world premiere: 20/8/2021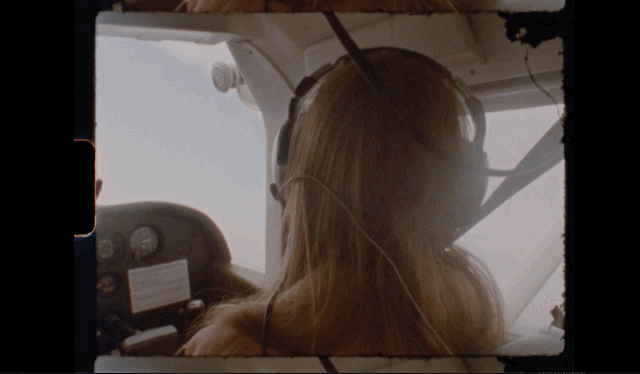 für dieses stück summte ich brian enos »music for airports« in einem kleinflugzeug, während es den flughafen tegel umkreiste. die aufnahme davon wird über die beschallungsanlage am eingang von terminal b abgespielt. für die produktion mietete ich ein kleinflugzeug vom flugplatz strausberg nahe berlin und flog im cockpit neben dem piloten mit. sämtliche funksprüche während des anrollens, des starts und der flugnavigation wurden aufgezeichnet. im flug begann ich dann in unregelmäßigen abständen teile von enos ambientmusik für flughafen zu summen und unterbrach nur, um die wolken, die sonne oder den boden weit unter uns zu betrachten. die musik verströmt eine melancholische atmosphäre, weil ich sie so intim und privat summte, als sei ich allein. in diesem stück verweist "air" also nicht nur
auf vokalkompositionen wie in "arie", sondern auch auf das gefühl, in die luft abzuheben. das knistern und gezisch der aufnahmen fängt im zusammenspiel mit den triebwerksgeräuschen die atmosphäre des fluges ein, wobei das abspielen über die beschallungsanlage im terminal b zusätzlich an die flugsicherung gemahnt, die integraler bestandteil des flughafens tegel war. im nebenraum komplettiert ein kurzer super-8- stummfilm, der während des flugs gedreht wurde, die installation.
in this piece i have chosen to hum brian eno's »music for airports« from a small aircraft while it is flying in a circle around tegel airport and to have this recording relayed through the pa system at the entrance of terminal b. i have hired a small aircraft from strausberg airport near berlin and have flown in the cockpit with the pilot. all the taxi, take off and navigation
communications from the aircraft have been recorded at the control tower. during the flight i begin to hum parts of the ambient »music for airports« at irregular intervals, stopping to look out at the clouds, the sun and the ground far below. there is a melancholy atmosphere to the music and the way i choose to hum it is intimate and private, as if i am alone. in this piece the 'air' is both a vocal composition, like an 'aria' and meant to evoke the feeling of being airborne. the crackle and hiss of the recordings, coupled with the noise of the engines capture the atmosphere of flying and the installation of the recordings over the pa system in terminal b recalls the air traffic control that was once an integral part of tegel airport. a short and silent super 8 film taken during the flight will play in an adjoining room.